WE WELCOME YOU TO MOSTRA 2020!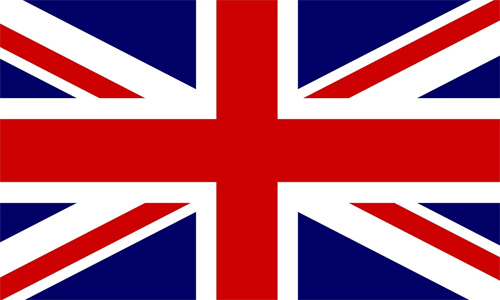 The History of the Custom
It was the Middle Ages… The Byzantine Empire has hauled its 'Eagles' and the Serenissima Empire of Venice and Genoa, although dominating in many seashore areas of Greece and the islands, were incapable of protecting them from the pirate raids that ravaged the coastland. Besides the occupiers, the islanders had to fight the Berber pirate gangs inhabiting the northern coast of Africa. They raided, slaughtered and pillaged and, worse even, took prisoners to sell at the slave markets.
To counter the raids at Thymiana, as in all mastic villages, they built the houses circumferentially attached to each other by a middle wall so as to create a kind of castle with narrow windows operating in times of need as battlements. The three entrances to the village opened in the morning and closed at night. Sadly, after the earthquake of 1881, the village suffered damages and only the area of 'Votes' bears testament to its past.
To complete the defense system, apart from the castles and castle-villages, they built 'Vigles', tall observation towers. All 'Vigles' maintained visual contact with each other. As soon as the enemy craft was detected, the guards-'viglatores' alerted each other, by waving clothes (sacks or coats but mainly smoke signals) if it was day or by lighting a fire if it was night.
It was the evening of Tyrini Friday and as the villagers of Thymiana were feasting, the news from the watchful 'viglatores' arrived that a pirate ship was approaching the coast of Megas Limnionas. The villagers rise and decide to face the pirates rather than stay behind the walls. Men and women grab their tools of work mostly, some stashed away swords and whatever else they could use as a weapon and head to 'Stenakas', a narrow passage to ambush the pirates. A deadly fight follows in which the villagers smite the pirates and drive them back to the sea. They return victorious to the village shouting 'Vre, vre, mori, mori' and celebrate their victory holding olive branches. In order to further trumpet their victory, the captive pirates are hanged and displayed for three days in the central square of the village, Livadi. The feast lasts for three days. Tradition has it that no pirate ever came close ever since.
Revival of the Custom
Since then, every year, even in hard times of our history, under the responsibility of the 'Stenakoysi' and 'Htistades' fraternities, since 1955 in charge of the Thimiana Community and since 1976 in charge of M.E.O.Θ., on Tyrini Friday they 'put on Mostra' and on Tyrini Sunday they 'Fold' it. The fight is staged with the elaborate steps of the 'Talimi' dance accompanied by flutes and tambourines. Valour, bravery and beauty at its best. Closing down, they dance the victorious 'Detos' dance, which seals the unity and solidarity of the villagers of Thymiana. The 'guilds' hang their banners and the Greek flags on the rails of St Stratis and thus concludes the traditional part of our Mostra.
Mostra today
On Tyrini Friday evening the staging of Mostra acquires a more Dionysian colour. 'Koudounatoi' (bell bearers) dressed in various clothing and having their faces covered with 'moutsounes' (carnival masks) to cover their true identity, hold sticks and canes in order to dance the 'Talimi' according to tradition and wander around the crowd teasing and joking. A popular feast follows at the Elementary school of St. Minas.
On Tyrini Sunday our village 'dresses up'! Adults and children, dressed as 'Vrakades' and pirates, start in the morning from the country churches of St. Demetrios Ktiston and St. Ioannis Stenakouson and, after attending the service and paying tribute to the dead, they descend to the village dancing the 'Talimi'. At Vournou Square the 'guilds' meet up and united as they are we welcome them in the main village street. A crowd gathers to watch the enactment of the heroic battle, to hear the swords clang and the battle cries of the fighters. The accompanying music is vivid, dynamic and alerting and its rhythm overwhelms everyone. The heart of each and everyone who comes from Thymiana beats to the rhythm of this music.
After the enactment of the battle and the end of the traditional custom follows our Carnival. The King of the Carnival emerges to strew joy and smiles over the crowd and to satirize current affairs. 'Koudounatoi', floats with numerous crews follow dancing to carnival music. A traditional island feast follows at the 'Karouli' Square.
For a long period of time, every afternoon, inspired by their love for the custom, volunteers work at the community warehouse and the building of M.E.O.Θ. to build the crew costumes and the imaginative floats. At the same time, courses in 'Talimi' and 'Detos' dancing as well as in musical organ playing (flute and tambourine) secure the continuation of the custom from generation to generation. Fun, a giving disposition along with anguish and responsibility are the prevailing sentiments.
Our Mostra, the greatest event of our village, the biggest carnival in northeastern Aegean, is our appointment with the tradition and the history of our native land but at the same time it is our gift to modern society. Our laughter, the positive attitude on life and the mocking disposition are a rejuvenating boost and a happy respite from everyday life!!!
Bibliogrphy: Thymiana My Village, Stylianos Stafileras, Chios 1976
Folk Treasures of Thymiana, Kyriakos Proakis, 2nd Ed., Chios, 2003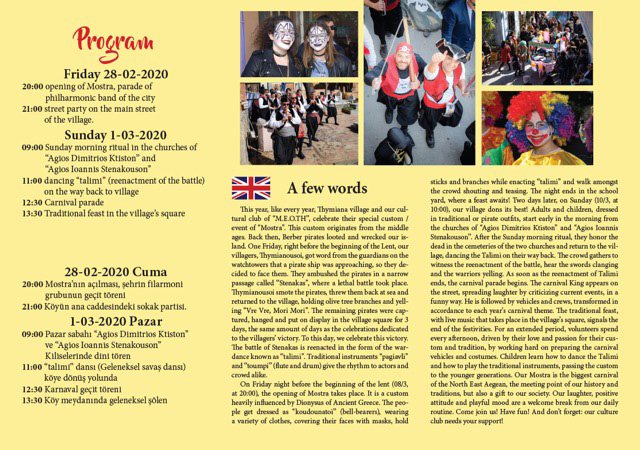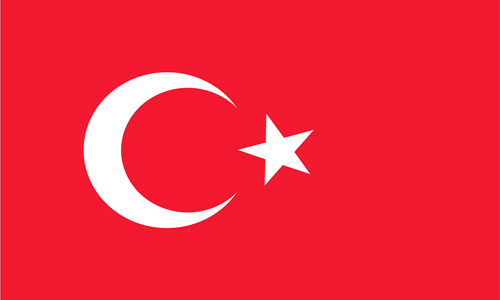 Bir kaç kelime
Her yıl olduğu gibi bu yıl da Meoth Kültür Kulübümüz ve Thymiana köyümüz olarak geleneksel Mostra'nın yıldönümünü kutluyoruz. Mostra Olayının geçmişi ortaçağa dayanmaktadır. O zamanlar da Berber korsanları adamızı yağmalamışlar ve zarara uğratmışlar. Bir cuma günü (40 GÜNLÜK PERHİZ'in başlangıcından önce) Thymiana köyümüzün yerli halkı gözcü kulesi "Vigla" dan korsan gemisinin yaklaştığını görmüşler. Ve böylece onlarla yüzleşmeye karar vermişler. Halkımız, Stenaka denilen dar bir sokakta korsanlara pusu kurmuş ve ölümcül bir meydan savaşı ortaya çıkmış. Onları yenerek denize atmışlar. Halkımız, ellerinde zeytin dallarıyla "VRE VRE MORİ MORİ" diye bağırarak köyümüze geri dönmüşler. Kalan esirler ise köy meydanında asılmış ve halkımızın görmesi için 3 gün orada bırakılmış . Halkımız 3 gün boyunca bu zaferi kutlamış. O zamandan günümüze kadar bu zaferi kutlamaktayız."Talimi" denilen savaş dansı bu savaşı temsil eder. "Pağiavli" (üflemeli bir çalgı) ve "toumpi" (vurmalı bir çalgı) denilen geleneksel çalgıların yoğun ritmi dansın her adımına eşlik eder ve bizi coşkulandırır.
Cuma gecesi (40 GÜNLÜK PERHİZ'in başlangıcından önce) (28/2/2020,20:00 saat) geleneksel Mostra Olayı'nın yıldönümünü kutluyoruz. Mostra Olayı,Antik Yunan'daki Dionysos'la yakından alakalıdır.Genci yaşlısı tüm insanlar kılık değiştirir ve çeşitli kıyafetler giyerler, yüzlerine maske takarlar, böylece gerçek kimliklerini saklarlar. Herkes ellerine ağaç dallarını alır ve Talimi dansında bu dalları kılıç olarak kullanırlar. Kalabalığın içinden yürümek , onlarla şakalaşmak ve onları güldürmek geleneksel Mostra Karnavalının tipik özelliklerindendir. Bu gecenin sonunda bir okulun bahçesinde müzikle birlikte ziyafet çekilir.
Pazar günü,2 gün sonra (01/03/2020,10:00 saat),köy halkımız güzelce giyinip kuşanır. Çocuklar ve büyükler geleneksel kostümleri (Vrakades, Pirates gibi)giyinirler. Herkes güne erken başlar. Saint Dimitris ve Saint John kiliselerini ziyaret ederler ve meydan savaşında şehit olanları yad ederler. Kiliseden sonra köye giderler ve Talimi dansı yaparlar.
Birçok insan kahramanlık savaşının simgesi haline gelmiş olan geleneksel Mostra'yı izlemeye, çarpışan kılıçları ve bağıran savaşçıları dinlemeye gelir.
Savaş gösteriminden hemen sonra köyümüzün sokaklarından karnaval geçit töreni yerini alır. Karnavalın kralı meydandan geçerek mutluluğu paylaşır, gülümser ve komik bir şekilde içinde bulunduğumuz zamanı eleştirir. Hemen ardından karnaval arabaları ve müziğin ritmiyle dans eden kalabalık onu takip eder. Gün, geleneksel ziyafete eşlik eden canlı müzik ve köy meydanındaki danslarla biter. Geleneklerine bağlı tüm gönüllüler ve MEOTH Kültür Kulübü olarak kostüm ve karnaval araçlarını üretmek için her öğleden sonra tutkuyla ve aşkla çalışıyoruz. Ve yeni insanlar geleneksel enstrümanlarımızı ve "Talimi" gibi halk oyunlarımızı öğreniyorlar, böylece gelenek gelecek nesillere aktarılıyor. Hazırlık sürecinde en çokta "neşe, fedakarlık ve sorumluluk duygusu" hissediyoruz . Mostra Kuzey-Doğu Ege'nin en büyük karnavalıdır, ayrıca Sakız Adası'nın tarihiyle buluşturma noktasıdır .Bu karnaval günümüz toplumuna bir armağan niteliğindedir. Karnavaldaki neşemiz, pozitif tutumumuz, şakacı hallerimiz günlük rutin hayatımızdan heyecanlı ve eğlenceli bir kaçış gibidir. GELİN!BU KARNAVALIN BİR PARÇASI OLUN! Ve unutmayın ki kültür kulübümüzün bu zorlu görevi sürdürebilmek için sizin desteğinize ihtiyacı var. Hepimizin mutluluğu adına!!!